Description: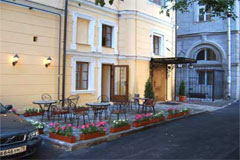 Hotel Moyka 5 opened its doors on the threshold of high season, in May, 2006. It is a 6-floored separate building, situated on the embankment of Moyka River, in the historical and cultural center of Snt. Petersburg , in the immediate proximity of the Cathedral the "Saviour on Blood", house where lived a famous Russian poet - A.S. Pushkin, 5 minutes walk from Court Square and Hermitage, 10 minutes walk from Nevskii Avenue, Kazan Cathedral and other museums.
There are 24 rooms in this hotel which are well equiped, 6 from which are Lux rooms, with saunas and jacussi. 4 Lux rooms have original two-level planning. All rooms have a TV-set, a phone, a safe and mini-bar. There are conditioners in Lux rooms. The hotel is equiped with wireless Internet.
There is a cosy cafe on the first floor of the hotel, where our guests have breakfast free of charge. For smokers breakfast is served on the special cafe-balcony. For the tourists a wide spectrum of tourist services, including visa support, free of charge registration, transfer from the airport or train station to the hotel and back. Our guests also can use services of a laundry, dry cleaner's, order auto with a driver and a translator on hire, air tickets or train tickets.
Rooms:
Tea, coffee, juice, fancy cakes at will;

Public kitchen-cafe: - At your service - electric stove, micriwave oven, refregerator, coffee-machine, electric kettle; - You can cook by yourself or ask our personel for help

Modern computer with the Internet access, fax.

Meeting of guests (at will):
In the airport (one way): 1-3 persons - 35 Euro / 3-5 persons - 45 Euro / 5-10 persons - 55 Euro
At any station: 1-3 persons - 25 Euro / 3-5 persons - 35 Euro / 5-10 persons - 45 Euro


The company also provides  hourly car rental. Minimum order time: 3 hours of work + 1 hour of delivery. One hour price  is 12 euro

Registration for foreigners FREE OF CHARGE!

In the rooms: Local water-boiling system
Costs in 2008:
 

01.05 - 24.05
01.07 - 25.09

25.05 - 04.06
11.06 - 30.06

27.02 - 30.04
26.09 - 31.12

05.06 - 10.06


Standart Room Single

5600 rur

5950 rur

350 rur

7000 rur

Standart Room Twin/Dbl

6300 rur

6650 rur

4200 rur

7700 rur

Suite Room

8050 rur

9100 rur

6300 rur

10150 rur